CBGB Forever...Maybe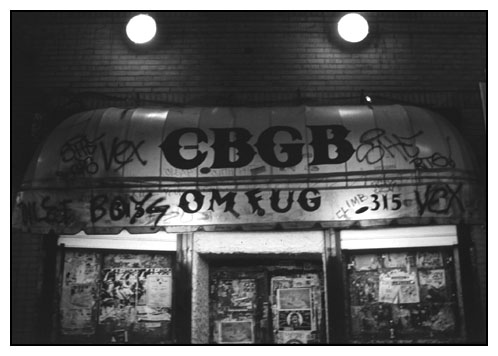 As I was walking out of work yesterday, I got an e-mail from a friend that his buddy was standing next to
Chris Frantz
and
Tina Weymouth
down at the free
CBGB Forever
benefit in Washington Square Park.
Not the biggest fan of punk rock, I wasn't planning on going down to the Park for the free
Save the Max
-style benefit (with Little Stevie filling in as Zach Morris), but this latest piece of information blew me away. Two of the four Talking Heads in attendance, and David Byrne couldn't be far away, could he? Was it possible Jerry Harrison was hiding somewhere in the W. 4th bushes, waiting to bust onto the stage for the big reunion? I convinced myself this reunion was happening.
So Lukas enlisted and the two of us met down in the Park. Chris and Tina hopped up on stage and introduced Blondie, who for a 60-year-old looks pretty good. I'm sure she's had some work done, but still, impressive for 60. Her voice ain't quite what it used to be, and her band wasn't exactly the most talented bunch of losers, but she closed her four-song set with the famed "One Way or Another" and the crowd went wild.
After her set, the emcee warned us to stick around, but quickly let us know that the upcoming act was not the Talking Heads, or even David Byrne, but rather the always punk- and white people-friendly
Public Enemy
. This was a reunion, but not the one I was lookin' for. Pretty cool nonetheless, so we stuck around.
In the meantime, in between sets, a local politician gave a charged-up speech during which he said they'll hold back funding from CBGB's landlord unless they keep the famed rock club open. A little background: While they may be unreasonable landlords (and they are), the Bowery Residents' Committee is an organization that helps the homeless, the disabled, the chemically dependent and people with HIV/AIDS by providing them with "a comprehensive array of services including housing, meals, detoxification, mental health and addiction services, health care, vocational rehabilitation, AIDS services, community education, and advocacy." Yeah, let's choke off funding from these people to save a dingy club that gets terrible bands nowadays. Sounds about right.
Public Enemy came out -- first Chuck D and the band, then Flava Flav and his clock -- and, in the words of Randy Jackson, "did their thing, dawg." But instead of trying to save CBGB, they pretty much talked about Hurricane Katrina and its devastating effects, which in the grand scheme of things is more worth rallying around. They fought the power, they did their shtick, and in the blink of an eye, they were all off-stage. Except for Flava Flav, who didn't want to leave. He kept babbling while Chuck D was half way home.
And after the set, they started striking the stage. What, no Talking Heads? No Byrne? How can they have a Save CBGB benefit without David Fucking Byrne? How is it possible I saw Byrne in a bright yellow shirt eating pizza on the
South Street Seaport pier
and not down at the benefit for the club he helped make famous? Confused and saddened, I went home. But at least I can say I saw Blondie and Public Enemy in concert, and it didn't cost me a dime. I'd say that's a nice hour-plus after work.
I'll leave you with Flav's actually very coherent and deep advice from the evening: "With peace and togetherness, we can have all the power." Or something like that, I never really listen to black people.