This is Red Rocks...This is The Edge
Even though last week's Colorado trip to Denver and Boulder feels like eons ago, I'm strangely compelled to post a few pictures from the quickie jaunt, for posterity's sake.
I've already archived my camera-phone photos of
downtown Denver
and described my least favorite part of the trip --
the unfair airport confiscation
. But I've yet to document my trip to the world-famous Red Rocks Amphitheatre, and I'll do that now:
Poor Red Rocks. On this day, the amphitheatre was emptier than an Allan Houston box score stat line. Still, it's pretty cool that the venue is open to the public at all times:
I've never seen a show here, but I couldn't imagine experimenting with some substances and rockin' out, only to look up and to the left at this incredible sight: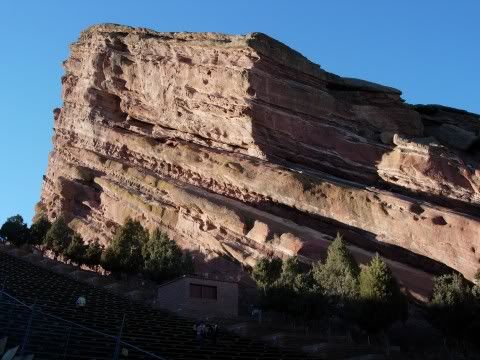 Or turning my head to the right and seeing this formation:
Deputy Girardin accompanied me to the Rocks, and even though the restaurant was closed and we couldn't eat any rattlesnake empanadas, we still had a fun time. The Deputy even got to add this photo to his "
Trey Face
on the stage at Red Rocks" file:
He then got to show off his amateur photography skills, which turned out to be piss poor. I'm blurry, but then again, this is how the band looks to me at just about every show I've ever attended. Um, I guess I can say, excellent use of the F-Stop, Chris: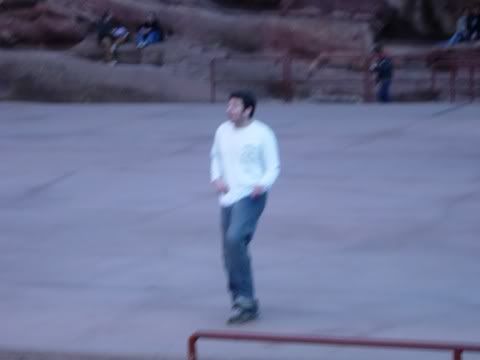 Ace ponders what an awesome day it's been, and so far, what an amazing time he's having in the homeland of Pete Coors:
All that's left from the trip recap is a review of the two magnificent
Tea Leaf Green shows
we caught out there -- that'll have to come later, when I eventually return to normalcy.
In the meantime, you can access the Denver
Quixote's show here
, one of the band's all-time great concerts (FYI, a couple of the songs are mislabeled, so that's gotta be fixed, but it's a great listen).
Slack Video of the Day
: Let us flash back to a little gathering called Woodstock and watch the magic of one
Jimi Hendrix
, ripping a Fire for the ages.
Slack Song of the Day
: Stayin' with an uninspired theme of colored artists, here's legendary crackhead Bernie Worrell and the WOO Warriors on
Gamin' On Ya
,
Funkentelechy
and
Red Hot Mama
from March 4, 2005 at The Moose in Doylestown, PA.