The Allmans & Grateful Red
How fitting, on the very day we discuss the
velvet smoothness
of the paler, bearded soul species -- Michael McDonald and Kenny Rogers -- one of my roommates offered me a last-second, extra eighth-row center ticket for the Allman Brothers Band at the Beacon.
While we're certainly permitted to semi-jokingly rank those aforementioned fellers among the greatest white soul brothers in music history, nobody puts Gregg Allman in the corner.
And sure enough, just two songs into the night, he belted out that from-the-gut "Lord, it just might happen to be your man..." a capella lyric towards the end of One Way Out, reminding us all at that moment who's truly the king of white soul. Accept no substitutes.
(Allman's looks have finally caught up to his sweet, old-timey bluesman pipes. And as he ages, he's really beginning to look like Jon Voight dressed up as Willie Nelson for Halloween.)
This was the ninth Allmans show in what seems like an annual 435-night run at the Beacon, and by all estimations, these guys are as good as ever. Gregg & ABB management have assembled an all-star roster of originals and ringers, letting the ridiculous combination of Warren Haynes and Derek Trucks take over the solo shredding while the patriarch adds the fills and admits his blues.
It's really a brilliant lineup in every respect. I think everybody should have an opportunity in life to see these guys from 10-15 yards out, just so they can witness from such close range Derek and Warren trading hot licks and graciously switching roles. Everyone wants to hand Trucks the crown and scepter as guitar's greatest talent, but I think the guy to his right might take some offense to that. Personally, I thought Warren was the superior geetarist last night, though both are insane. Derek's got the cuter wife.
We were also treated to a handful of guests and different kinds of instrumentations throughout the evening, including three horn players, Truck's wife Susan Tedeschi, Mike Mattison on vocals and several people (an old guitarist and a funky bassist that replaced the unsung Oteil) that may or may not go by the band name "Random Black Guys." Does anyone have any info on who this was on stage with the Allmans? I'm not sure they were ever given a proper introduction, and I didn't recognize them.
Guest Update
-- One reviewer on the Allmans site shares this info: "The Gregg Allman Horns (Jay Collins, Chris Karlic, Jim Seely) join for a sweet rendition of 'Loving You Too Long' that has couples swaying in the aisles like prom night...
Set two begins, and there's a party on the stage. In yet another gesture to their past, the band welcomes members of the Kingpins, who played with King Curtis on his own classic Fillmore record, the one with 'Soul Serenade.' Cornell Dupree is on guitar, seated behind Derek and to the right; Jerry Jemmott has taken Oteil's slot on bass, and Bernard Purdie, one of the most renowned drummers around, is on Butch's kit; no Butch, no Marc. Mike Mattison from Derek's band is sitting in on vocals. And the horns are back. So left to right, there are 11 guys on stage. It is our own Soul Revue."
As good as the band played (and they were fantastic), I think the highlight of the night was a special guest in the aisle of my row: Bill Walton. About 20 minutes into the show, a seven-footer strolled up next to us and stopped in his tracks. Unmistakable and unmissable, Grateful Red hung out about five feet from us all evening. Far be it from me to ruin his evening, we did not converse, not even about the handful of e-mails we've traded in the past, most of which conclude "Aiko Aiko, Bill Walton." I love that man.
Here's a shitty camera phone pic I took of him reaching his arms up 10 feet in the air and cheering on the band during the final notes of the Revival closer: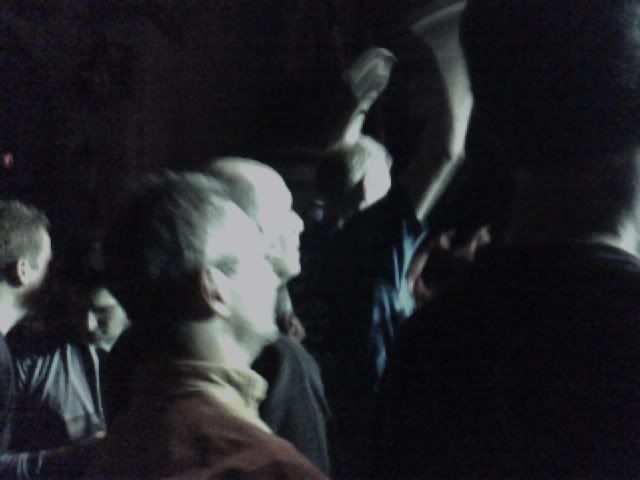 Many thanks to Roomate Glaser for hooking up a fantastic ticket, and many apologies for taking oney hits in front of his father. Last night was a helluva show, a great impromptu evening. I thought it was a bad sign when the band took the stage and my first thought was, "Man, Gregg Allman is going to be the next great music death."
But as it turns out, the band is as healthy as I've ever heard it, invigorated by some serious talent and held down by its original roots. Nobody left to run with? Bah, Greggor, there'll always be people lined up to run with youse guys.
Slack Quote of the Day
: "In the grand scheme of us acquiring mediocre pitching, this move makes a lot of sense." --
Diehard Cincinnati Reds fan Mitchell VergerDartz III, sounding off on the Bronson Arroyo for Wily Mo Pena trade
. I, for one, think this is a pretty good deal for the Redlegs, and I hope Tim McCarver calls more of Brandon Arroyo's games this season. Dipshit.
Slack Video of the Day
: Today we're featuring two disparate YouTube videos sharing the same music. First, a talented young gun plays the
Mario Brothers theme on two guitars
.
Up next, a
Super Mario Brothers Meets Kill Bill fight scene
for the ages.
Slack Song of the Day
: You're not just gettin' an Allman Brothers song today. Nope, you're due for a full Allman Brothers set. From the
Fillmore East on 2/11/70
, here's a super recording of the one and only ABB playing five tunes: Liz Reed, Statesboro Blues, Trouble No More, Hoochie Coochie Man and Mountain Jam. That's gouda.