Bohemian Hall Beer Garden & You
Yom Kippur only comes 'round once a year. But the World Cup, that's even rarer. So for this once-every-four-years occurrence, we decided to pull out all the stops. And pull 'em out we did. Hell, we not only pulled out [those stops], we came all over Saturday's face.
If I were to tell the story
Memento
-style, the recap would no doubt begin with these numbers: Nearly 11 hours inside, at least 15 pitchers drank, three World Cup games watched, four enormous sausage platters devoured, two large sections of hooaagie (Philly spelling) eaten, two rock hard bagels picked at, three packs of smokes and a bunch of one-ys inhaled. That doesn't include the horsey-strong Bloody Marys, the plates of nachos or the somehow requisite shrimp tacos we grabbed at Daddy-O in the West Village on the way home.
Obviously your faithful narrator passed out on the couch at 8:30 on a Saturday night. Small price to pay for a Day For the Ages.
Donnie, Nickjimmy, Hoobs (seen here in the center issuing first-class tickets to the Guns Show) and I decided it'd be best to arrive at this New York-renowned Czech beer garden early, as to secure viable seats and watch all three games uninterrupted. Little did we expect the bar to be closed and only two other patrons awaiting entry. As you can see below, we wastedly watched about 500 people trickle in throughout the day like urine from a prostate cancer sufferer.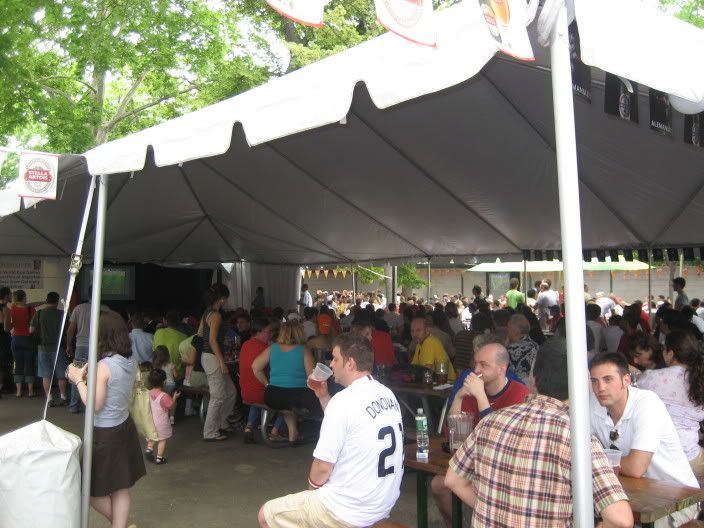 Most of the late-arriving Czechs showed up to their home turf just before the Ghana-Czechs match started (noon), well behind a solid crew of anxious Americans. Many of these Czechs toted airhorns, and having been drinking heady European beer for three hours already, the initial blasts were equally startling and uplifting -- a very similar experience to situating your junk in front of the jacuzzi stream.
After a relatively uneventful Portugal win over Persia, an underdog Ghana squadron took a 1-0 lead over the Czechs just a minute into the match. Our pro-American section sprung to its feet and cheered from instinct. Most of us didn't care if we were rooting against the supposed home team and clearly outnumbered, but I had a brief visualization of them shutting the doors and the leader in the Rosicky jersey saying "
Now youse can't leave
."
The man pictured here on the right is Ghana Guy, the bonafide hero of the day. This nice man woke up in the morning, put on a soccer jersey, came to the beer garden and walked out a legend. Americans mobbed him after Ghana's 2-0 victory over the Czechs, helping the U.S. team control its own fate towards the second round. All for putting on the right shirt, Ghana Guy received numerous standing ovations, posed for pictures and even signed a few autographs. It's entirely possible the last time he received so much attention from white Americans involved relief workers and red crosses.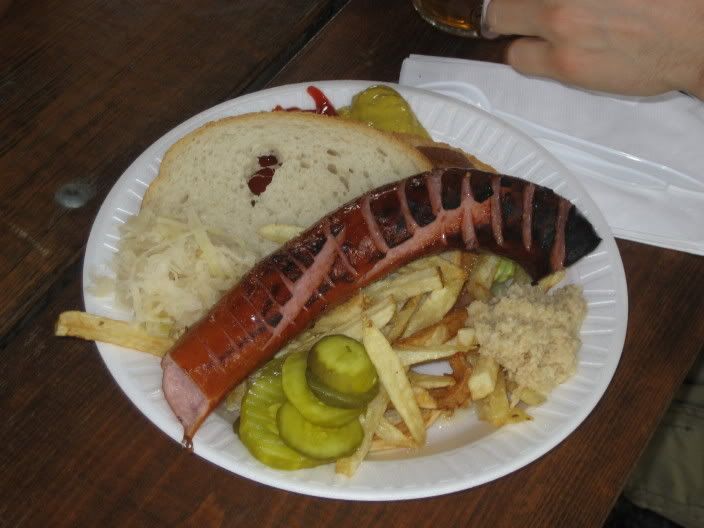 Maybe it was all the beer and Euro-type atmosphere, but the food in that place was awesome. I mean, I probably would have eaten a big pile of platypus dung had our waitress brought a plate over, but the enormous sausages with piles of kraut certainly did the trick.
We were lucky to snag the waitress, though, as the food line took forever. Our new Czech friend Milan's Columbian wife went to get some food in between the second and third games and she didn't come back for over an hour. Hoobs, perhaps crossing the line -- perhaps -- suspected that someone might be sexually assaulting her in the bathroom. We couldn't know for sure. Maybe it was Ghana Guy.
Bart Starbux substituted himself into the bar just before U.S. game time, providing us with a fresh set of legs for the game. Immediately he paid dividends, bringing over four pitchers and ransacking the sausage we couldn't finish. He also offered some perspective on the day, leading to this exchange:
Bux
: You guys have been here drinkin' col' beers all day...this is the type of waitress that must be looking progressively better and better to you as the day goes on.
Ace
: She's hot.
And despite two bullshit cards, despite losing a goal to an offsides penalty, despite being overmatched by one of the best teams in the world, the United States held its own and tied Italy, giving ourselves a good chance at moving on to the second round. It was truly incredible to watch it all unfold with scores of U.S. soccer fans in true European fashion. How very Junefest of us.
Random pic: I call this hazardly drunken shot, "Czech Out Those Jugs"
To help you feel like your life is as cool as mine, I took two short videos of the scene at Bohemian Hill: First, Ghana
misses a penalty shot
to the dismay of the American section of the bar; second, I
surveyed the scene
panoramically and came up with this video.
I'll sum this up with one picture rather than more of my foolish words. When your table looks like this at the end of the day...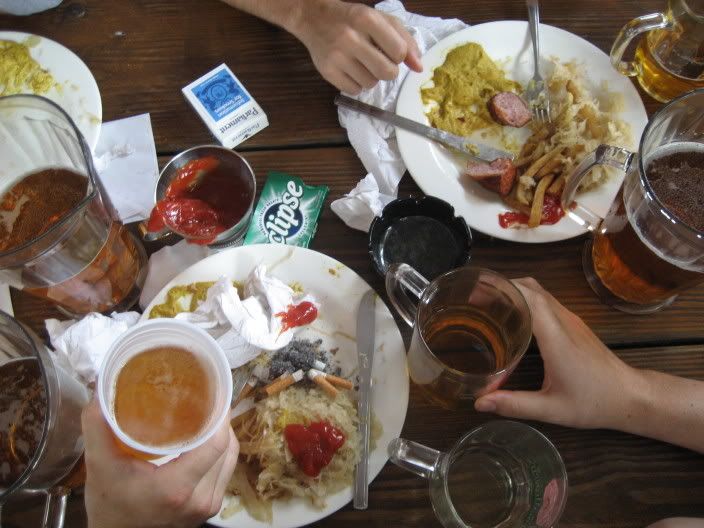 ...you know you've just banged Saturday in the arse. All bets, off.