Dear ESPN,
Thanks for jinxing my no-hitter, homes. Really great, mang.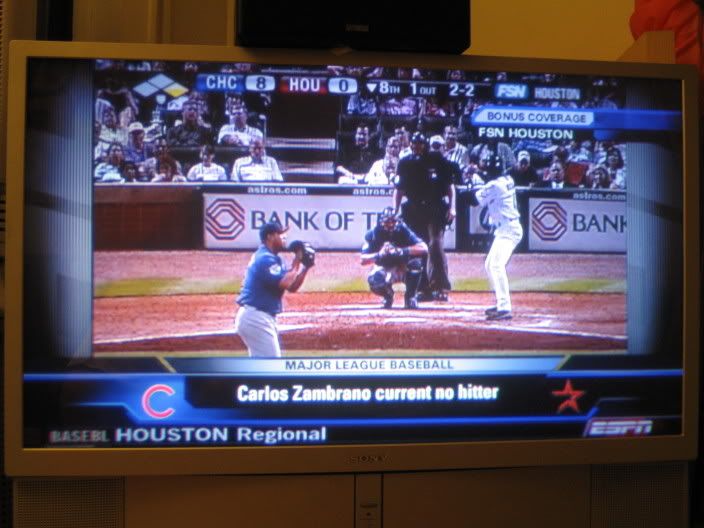 Watch yo' back, ese,
'Los
P.S. Do your graphics guys and producers not watch enough sports? How many games do you have to see to know that by posting this banner with one out in the eighth the very next guy will ground a weak single through the hole on the right side? It already says "BONUS COVERAGE" prominently on the screen, there's just no need to state the obvious. And if you're going to ruin my hard-fought no-hitter with a stupid fucking banner, at least let it be grammatically correct: "Carlos Zambrano current no hitter" is wrong and ridiculous.
Slack Link of the Day
: Coach dug up the following link, and the bookish nerd side of me finds it extremely fascinating. Someone created a list of
150 expressions and cliches
that Shakespeare coined in his works that have become a part of our everyday lexicon. Well, some of these aren't
quite
everyday words and phrases, but I'm definitely gonna start using "Unsex me here" more often.
Slack Link of the Day II
: On this day, 06/06/06, when the apocalypse can't be far behind, the 30-year mortgage rate stands at
6.66%
.
Slack Song of the Day
: Some Dude over at
Hits from the Blog
sent this over to me yesterday, which I've packaged as a YSI file for your perusal. Eddie Vedder sat in with My Morning Jacket on Saturday at Continental Airlines Arena in NJ for a rousing rendition of The Band's
It Makes No Difference
. Turn it up, sounds terrific.