The Oooh-Yeah Show
I accompanied a walking joke set-up (a blonde, a brunette and a redhead) to Irving Plaza last night to see
Maceo Parker
for the first time in more than five years. My lovely sister-in-law, the awesome mother of my awesome nephew, asked me if I wanted to come along, and of course the answer was "Good God, yes. Shucks."
Maceo's one of the cooler cats on Earth, a former James Brown and Parliament saxophonist that only brings around folks that can blow. His band is always sharp, no matter who's playing with him, and there's really no such thing as a bad show. He's also nuttier than squirrel turds, a man who's dressed to the nines but acts like his brain's been fried by acid and a touch of peyote, so his antics up on stage are always fun to watch.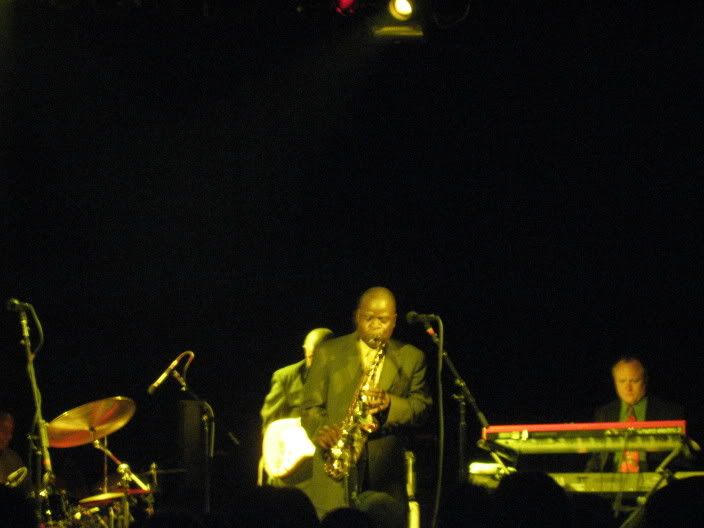 The first time I saw Maceo I was still 18, at Tufts University's 1998 Spring Fling visiting some friends. He opened for LL Cool J and just tore the house down. Two weeks later he came to Chicago for a Northwestern-only concert at the Riv, and we all stood along the front rail cheering our balls and tits off. Donnie Fiedler even unintentionally smacked a beach ball or heavy balloon into trombonist
Fred Wesley
's face. Ahhh, youth. Fred loved it.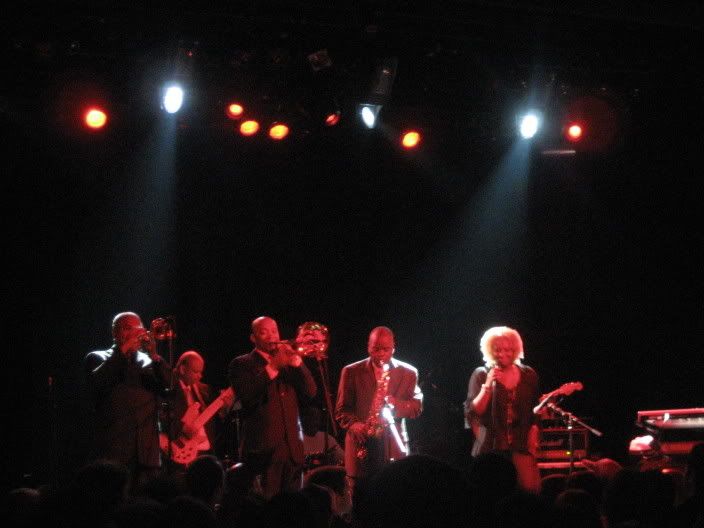 Eight years later, Maceo and I are both still going strong, and he's up to the same ol' tricks. The show is a little different these days (my first three Maceo shows were virtually identical), but the songs have mostly remained the same. Now, though, the greatest hits -- Shake Everything You Got, Pass the Peas, Got to Get U, Rabbits in a Pea Patch -- come towards the end instead of up front.
But the more things change, the more they stay the same. Maceo still has his
British manager
come out and do the intros one by one, he still has
his son Corey
come out for some kill-the-show rapping, he still does the "We say 'Oooh Yeah'" bit, he's still dropping "Good God" and "Shucks" more than anyone but James Brown, and he still calls a back-up singer out to the front -- only instead of Sweet Charles, it's the lovely Miss Martha (see above pic).
I wonder how cool it'd be to watch Maceo interact off the stage, say with his wife: "Check it out, check it out, we need a dozen eggs and a carton-a milk, honey. Good god. Shucks. Say what, say what? Baby, Corey got his report card today...Ooooh yeah, he got all A-s, good god. Ooooh yeah, can you pass the remote? Make it funky!"
Can I get the horns ag'in? You can do anything you want, Maceo. Another great show in the books...much obliged, sir. Welcome back.
Slack Videos of the Day
: Here's a
90-second clip
of Maceo and his squad goin' to town, and here's Maceo
talking jibberish
about Vill-i-am Shakespeare's "To Be or Not To Be" soliloquy.