Went To a Honky Tonk And a Phish Show Broke Out
I've never been to a show at which honky tonkin' country tunes ruled the setlist, but maybe I've been missing out all this time.
Mike Gordon's six-piece Ramble Dove outfit mosied into Irving Plaza for stop three of a seven-show tour, and in the process whipped up a room full of jamband fluffers into a two-steppin' frenzy. And, yes, that last sentence contains four different numbers. Just terrible writing. You can tell I got less than five hours of sleep last night.
What started out as a promising honky tonk show turned into a much coveted reunion, with Trey Anastasio joining his former Phish bassist for at least an hour of great country music. And no matter how much you want to spin the focus back to the original Ramble Dove, Trey's presence makes that virtually impossible.
In truth, I was nervous as to how he'd fit in to this lineup, but Big Red made this show that much better, filling the holes between Scott Murawski's shredding and Gordon Stone's pedaling. Trey definitely helped them stretch out the songs out a bit, adding some stellar improvisation to what had been up to that point pretty straight country. I'm not sure if that's what Ramble Dove intended, but that's what we got, and it made for a great show.
Above
: A group photo of Ramble Dove with special guest Ernest G. Anastasio III.
Below
: A pic of Trey, frontman Brett Hughes, and Mike Cactus Gordon, taken by an obviously better amateur photographer (credit: Danfun, see below)
Some other highlights from last night's incredible performances:
1. The lovely
Grace Potter
opened the show, bringing her brand-new Hammond and better-than-I-remembered band, The Nocturnals, to one of the biggest venues I'm sure she's played. Her impressive performance included one of the best songs about a bus I've ever heard and a slip of her left boob from out her dress while jamming. That, is an officially fully.
How unfortunate, she kicks serious musical ass and I'm running to the Interweb to tell people her titty popped out. I suck. She's great.
2. Pedal steel guitarist Gordon Stone wore almost the
exact same shirt
as
SNL
's androgynous Pat character, only in navy instead of sky blue. I'm not sure how someone can pull that shirt off, but he surely did. Maybe it's because he sits down to play a horizontal guitar.
3. Although I thought the show was extremely fun and very well-played, I give acoustic guitarist Brett Hughes and drummer Neil Cleary a D+ for stage banter. Hughes was charismatic, and he's a helluva singer (Cleary, too), but man, if you're going to stand up there and make jokes, please make 'em funny. And it's okay to admit you look like a combo of Ed Norton and Robert Patrick, Brett, just do it.
4. The frenzy following Trey's introduction was unlike anything I've ever seen in a small venue like Irving Plaza. Suddenly people came rushing up towards the stage, cameras and cell phones being whipped out like a public masturbator's dong, the buzz building and building 'til you couldn't hear the tuning. Considering so many people hate Trey and couldn't care what he does, there sure were a ton of people freaking the fuck out in there. I'm talkin' Davy Jones proportions.
5. In all, the Stone/Murawski geetar duo was really tight, they had two pretty hot chicks, Neil and Brett can play and sing with the best of 'em, Mike's bass was thumpin' in there and Trey showed up. What's not to enjoy? Were they the tightest band out there? Not even close, lotta flubs. But they sure did provide my friends and I with an incredible night of laughin' and dancin' and "Oh man"-nin'. Ramble on.
Slack Videos of the Day
: The number of people that screamed out Phish tunes like "Play Mike's Song!" was staggering. The band did oblige, though, breaking out a high-intensity version of Possum in the middle of the second set. Here's a 2-minute video I took -- the sound is borderline terrible (anyone know a way to get clear sound in an indoor venue, it's fucking impossible for me?!), but I think you'll all enjoy a little snippet of the action:
Click here for the video
.
If that version doesn't have enough download spots,
use this one
. If both are full, then you're just going to have to wait. Eat it.
A late addition to this post, here's a 52-second clip I uploaded to YouTube of
Trey's first solo of the night
(I Got Loaded)...again, the audio quality isn't great, but the video is pretty cool:
Above
: Trey whispers "We should re-unite the Phish," to which Mike replies "Eh, I never really liked Fish and Page...let's try The Duo instead."
Below
: A nearly full shot of Ramble Dove, including Marie Claire in an hourglass corset. Corsets truly make the band.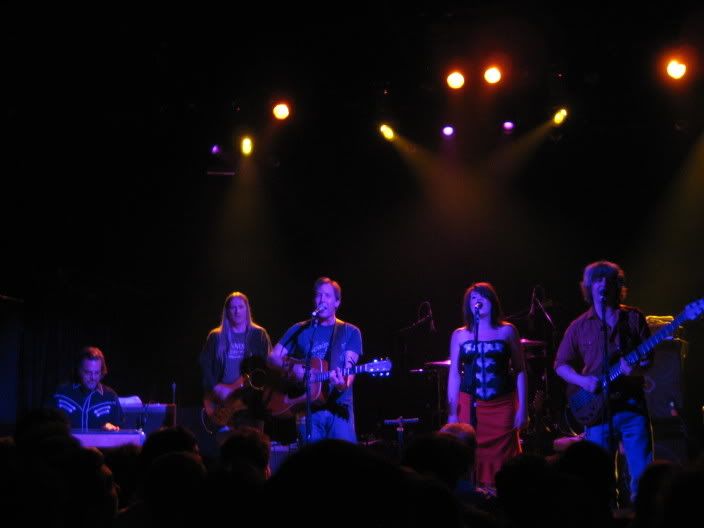 Here's
another shitty pic from me. Make sure to check out
Danfun
's great shots hosted
here
. And you can check out a couple more here and here from Loud Photos.