Caption Contest
Take your best shot at this one, Slackers...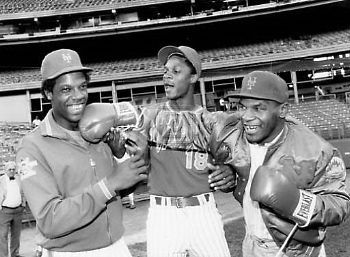 If we both let you rape our girlfriends, can Straw 'n I blow lines off Givens' ass? Arvid and Dennis can't watch, yo."
Eh, not my best, and definitely in the obvious camp. What say you?
Speaking of the Mets, I'm not sure if anyone caught this (and I didn't see
SportsCenter
last night), but the Marlins used four pitchers in the span of 90 feet last night against the Metropolitans. If that sounds confusing, it probably isn't, but I'm tired and cranky this morning, so allow me to explain a little better.
With a man on first and no outs in the ninth inning, Joe Girardi sent pitcher Brian Moehler to the plate to pinch hit for pitcher Joe Borowski. Moehler, instead, got hit by a 3-0 Billy Wagner pitch. Girardi then replaced Moehler with a pinch runner, fellow pitcher Scott Olsen. After Hanley Ramirez inexplicably struck out on a third-strike bunt and Dan Uggla went down like a fat chick with low self-esteem, Girardi replaced pinch runner Scott Olsen with pitcher Logan Kensing.
Kensing, following an extensive stretching routine, was stranded. Borowski, Moehler, Olsen and Kensing, all to get a man to first and leave him there. I've never really seen anything like that, on two separate fronts: ne'er seen four pitchers used for a single at-bat and ne'er seen a pinch runner replaced by a pinch runner (sans injury).
This might be the most blatant misuse of pitching talent since Phillies starter
Brett Myers
beat...ah, forget it. Craisins.
Slack Link of the Day
: If you've ever wondered what Jessica Simpson's nipples look like,
you're in luck
...
Slack Video of the Day
: Not quite the
RBI Baseball/1986 World Series
from a few months back, but here's a little clip called
Sports Bloopers
you may or may not enjoy.
Slack Song of the Day
: I'm pretty sure I could post a different song by The Band every day and not feel badly about it. The world deserves The Band. You need The Band, whether you know it or not. It's part of your soul. You should dig down deep and find the spot in your lungs that's craving the greatest non-American American band in music history, and once you locate that place, then and only then should you click on these tracks here:
Chest Fever
,
We Can Talk
,
Ophelia
,
King Harvest (Has Surely Come)
,
It Makes No Difference
,
Mystery Train.