This Boat's a Rockin'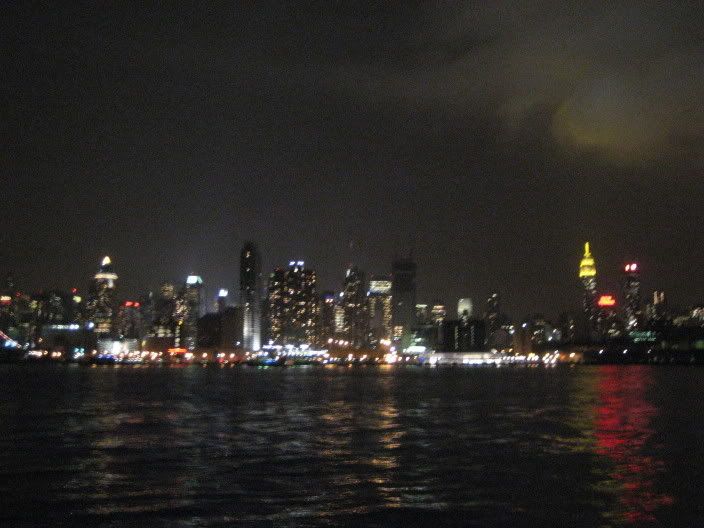 I'm not sure if it's National Jaundice Awareness Week, but the Empire State Building emanated a bright yellow glow last night. The skyline sure did look purty from the Hudson River. So what the fuck was I doing on a boat on a mislabeled tidal estuary following a five-day
meth
bachelor party binge
that begged for a solid Monday night's rest?
The occasional quasi-supergroup cover band known as
Bustle In Your Hedgerow
rocked the Rocks Off Boat Cruise for three hours last night. And between December's
ridiculous performance
at the Tribeca Rock Club and the promise of a free ducat, I felt there was no way in good conscience I could have sat on my couch while the boat circled our little island. I'm still hurtin' badly today, but hot damn am I glad I got off my ass and found that fuckin' (black) dog.
Last night also marked the return to live giggery for guitarist Scott Metzger, who brilliantly de
Part
ed a less-than-stellar techno-jamband about five weeks ago. Metzger joined his old friends Diamond Dave Dreiwitz, Sir Joe Russo and Untitled Marco Benevento on the three-year anniversary of the very first Bustle performance, and it's almost as if the four of them have been playing together nonstop since that night's debut. Talk about cohesiveness...I think this is the kind of overwhelming tightness to which pedophiles are attracted. That's a horrible analogy, sure, but dead on.
The boat was crowded but not nearly packed, and watching people try to dance in the small space when the waters whipped the ship around was pretty hilarious. But dance we all did -- it helps when you're prodded by four insanely talented musicians that get together rarely to cover one of the greatest rock bands of all time. What's more impressive is how amazing they do it, though. I could maybe perhaps kinda use a lead singer up there, but musically, I'm not sure I've heard anyone cover anything so incredibly in the history of live music. How's that for all-out fluffing hyperbole?
Marco and Scott re-create the classic Zeppelin sound, but it's Joe and Dave that make this band as perfect as it is. Dave could have piloted the
Enola Gay
because he drops serious, destructive bombs all over the
Japs
place, and sans analogy, Joe may actually be the best drummer on the planet. If anyone can fill the dead shoes of John Bonham, it's certainly this human octopus pictured above that simultaneously makes it look so effortless and yet so difficult. Parking my no-talent ass directly next to him throughout the whole second set was like a eunich watching an orgy.
The remaining highlight that I'd be remiss if I didn't point out: the two
School of Rock
ers that sat in with Marco and Dave to open the second set. The female guitarist made Metzger look like a chump and the young longhair on drums told Russo to go home and get his fuckin' shinebox. Well, maybe they weren't
that
great, but they really were phenomenal. These two folks have a very fine future ahead of 'em (a kind anonymous commenter chimes in: "The special guests were Sarah Zimmerman on guitar and vocals and Eric Slick on drums...").
I took some video footage of Immigrant Song and the not-so- impromptu DanjaBoots two-song encore ("We're out of Zeppelin tunes," I heard Joe say), but I've yet to upload the clips. Hopefully one of the videos does justice to that rendition of Immigrant Song. I hate to use the Ace-cliche "off the charts...we need new charts" here, but good lord, sometimes I just have no words for greatness.
And that, my friends, is greatness: a Top Fiver for 2006, for sure.
More Pics
:
Metzger, Dreiwitz, Russo
;
Marco's jamface
;
pre-encore band meeting
;
other side of the meeting
;
Metzger & Dreiwitz
;
School of Rock sit-ins
;
The Statue of Liberty
.
(All pics courtesy of the lovely Penny Lane Seiden and myself -- but, of course, Seiden took the future album cover shot above)