Pistol Shots Ring Out in the Barroom Night
March Madness came to Bleecker Street a night early this year.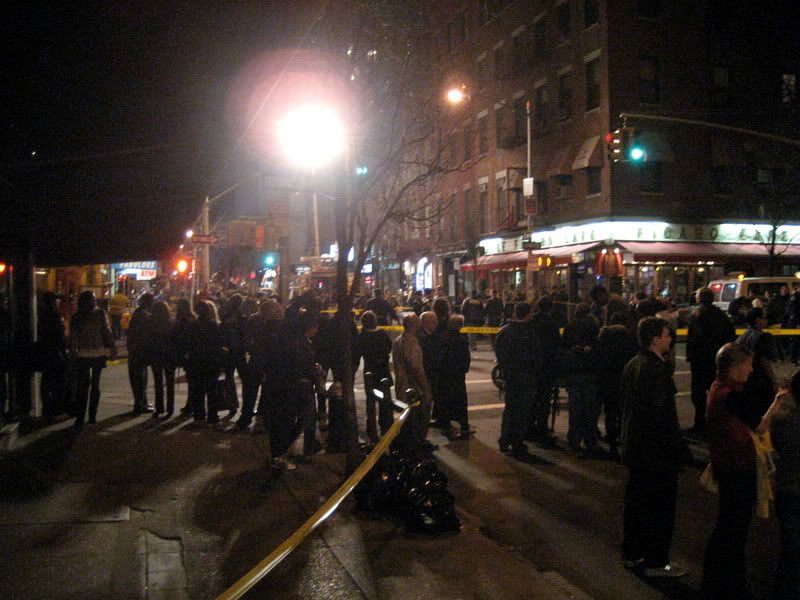 It was almost 9:30 on a balmy Wednesday night, and I sat on my couch nearly finished with a
Levon Helm Band preview post
for Hidden Track that
SI.com's Tourney Blog
could link to for a story on Pitt forward Levon Kendall. I had just uploaded a few tracks for the site when I clearly heard what could only be multiple gunshots. I wouldn't even say "multiple" -- it was more like an assload. At least 10, as many as 20. Crazy. Dare I say: craisins.
I live in a noisy, debaucherous neighborhood, and drunken amateurs set off illegal fireworks on occasion, but these were gunshots, unequivocally. I hopped right out the window and onto the fire escape as soon as I could compute what was happening, and within three to five minutes at least 30 police units of all shapes and sizes (unmarked cars, big vans, paddy wagons, motorcycles, horses, a
helicopter
) swarmed to my apartment. Within 10, nearly every cop in the city had mobilized on Bleecker street. You could steal City Hall.
I jumped back in to grab my camera, having no real knowledge of what had just transpired but wanting to document the incredible happenings on my normally safe and secure street. I took this video just about 10 minutes after the gunshots I heard.
Details were shady last night, but this morning we have
a bit more of the tragic story
. Apparently a lone gunman walked into the pizza place a block away on Houston, and, like a true gentleman, shot an employee 15 times in the back. Verbal Kint once asked, "What if you miss?" I'm thinking 15 shots took care of that.
As he fled up the street with two guns, 100 rounds of amunition and a fake beard (
Hey Lois, have you seen my fake beard
?) , the gunman encountered two unarmed auxillary policeman and shot one in the head and one in the torso, killing both. He finally met his own demise outside 175 Bleecker Street -- just 100 yards away from me -- when two responding officers shot him to death.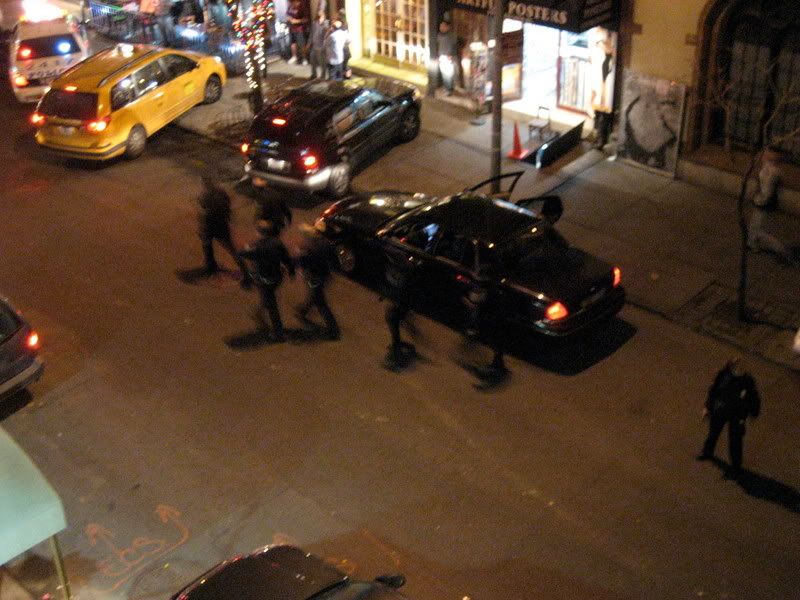 I must hand it to the New York Police Department here. Their response time could not have been more impressive, flocking to the scene quicker than you'd ever expect. I've never seen so many cops rush to a scene so hurriedly outside of 9/11, another (obviously more catastrophic) event to which I was a little
too close for comfort
. If I were a Man of Cliche, I'd say "There musta been a Dunkin' Donuts going out of business sale," 'cuz they came from every direction, with the speed of a mongoose. Nay, the speed of 100 mongeese.
My apologies for the blurry pictures and choppy videos, but I couldn't concentrate too much on the lighting and I felt strange about asking the police to pose for photos. But here are a couple more shots of the incredibly eerie scene on Bleecker last night, a place known more for fratty NYU types, laid-back Europeans and the gays.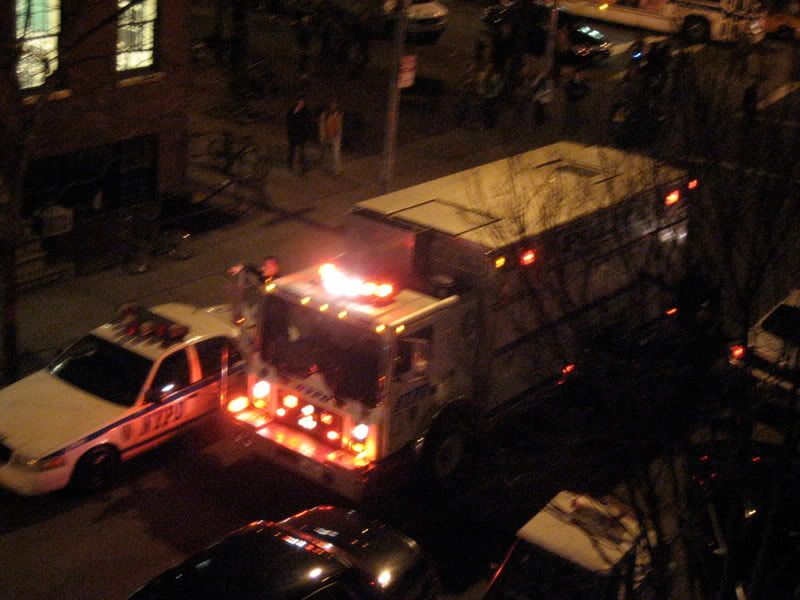 The police shut down a huge square area around the shootings, including 6th Avenue to my right. Traffic snarled. Gaper's delay.
In a weird way it felt like 9/11 for us again. Everyone on my block gathered outside in the search for details, with press reporters canvasing the area for witnesses and quotes, police roping everything off and ushering people back from a large crime scene.
We all came together to trade stories of what we heard and what we were doing, trading misinformation of what we knew and didn't know. One woman heard it was the mafia, another a barfight that spilled out of the establishment up the street, and a few reports placed this crime scene at the Lion's Den, a frequent Ace Cowboy jaunt. One thing's for sure -- nobody knew shit, but we all wanted to talk to someone instead of going back to our apartments.
Beware of the Ides of March indeed. Stay indoors, Caesar.
(It goes without saying that our warmest wishes and heartfelt condolences go out to the families of the victims...)
*The video in this post was also featured on Fox News*