A Quick Beisbol Rant
What a shitshow up in Boston this weekend...Hey, who's pitching the Yanks' next game, Moe with the gimpy leg?
By the cock of Zeus, what the hell is going on with this staff? Are we really expecting big things out of Andy Eugene Buttchin and four dudes that may or may not be working at Bennigan's six months from now (or Benihana in Kei Igawa's case)?
But I want to wish a hearty congratulations to my Sawx fan friends: You bested our swordsman and our giant this time. The problem is, it's still only April, and now the team heads to Yankee HQ in Tampa for a series with the Rays. Is there any real doubt that this weekend's injurious and insulting debacle is gonna force the Hand that Rocks the Clemens? Big Stein can't like that three-game result, and if he still has any mental faculties at all, which is currently up for debate, he's cutting a fat check sometime soon and #22 is coming back to the Bronx. Mark those palabras. And it's all because of you, Sawx fans.
I mean, is there anything more disgusting than Manny Ramirez's head? I'd rather shit in a pair of tighty whities and wear 'em all day than be in the same room as that clownish 'do. I'm pretty sure I said this last season sometime (possibly after the five-game sweep, possibly after he made up an injury and shut'r down for the season), but he couldn't look any more like a 13-year-old American girl that just returned from the Caribbean -- like ohmigosh, I got my hair braided and I rode a jetski! That's Manny: a girl on vacation.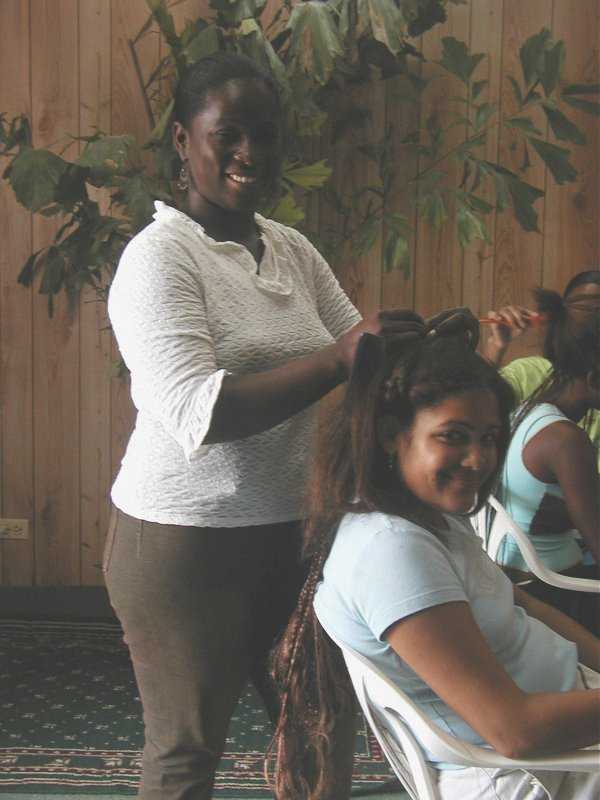 And congrats as well on lowering your standards to fake a city-wide lovefest -- Beckett and Dice-K both leave to thunderous standing ovations from the Saturday and Sunday crowds, having only given up a total of 11 runs (10 earned), 17 hits and three walks in their efforts. I mean, I'm all for cheering on your boys, but that reminded me of the scene in
Arrested Development
when Lindsay hangs up Maeby's C+ test score on the fridge.
Well, the Wanger's coming back, and we've still got a long way to go before the season ends with us on the outside looking in. But, shit man, those Os and Jays are heating up, a four team race to the top. I got dibs on top bunk.
Slack Link of the Day
: This story broke last week, but I forgot to post it here -- apparently the
Chinese are just as racist as the Klan
:
"A couch labeled as 'nigger-brown' got its offensive name from a bad translation program, according to the furniture's supplier. When users enter "dark brown" in Chinese in older versions of the Kingsoft program, its spits out the n-bomb. Newer versions don't, but if you type the slur in English, 'dark brown' shows in Chinese." Crassic.
Slack Video and Song of the Day
:
Ohhhhhhh to be Prince Caspian
: This video actually has a naked guy running across the stage at about 2:40. Naked guy -- excellent butt! Carini's gonna gitcha.